I had a great talk with my BOFF last night. Like, much needed girl talk, wish it were over wine talk. After I hung up, it hit me. I am no longer a college co-ed, or even a carefree 20 something. Nope, I am a single 31 year old woman. Ick. It just sounds so blah. Woman, I mean what happened to the days when your mom called you young lady? Nope, now its just woman.
Don't get me wrong, not sure I would go back to say er, 23, but not quite sure I am ready for the mammoth decisions and experiences of my 30's. Gone are the days when I could just pick up and move because the wind blew east or the grass not only looked greener, it was speckled with cute boys. I have so many other moving parts to my life that require so much thought even to say, go to the store! And don't get me started on the man front.
Doesn't get easier when you hit 30. I think in fact it becomes mire complicated as the sea of potential suitors narrows and breaking up or starting something new or changing anything in that department seems like deciding to go to war!
In fact, all decisions that need to be made now seem epic. They are life altering, pick the course you want to take difficult. Its not a matter of do you like me, check yes or no; or hmmm do I go out and skip class in the morning or go to class hungover; or to buy that new purse and eat Ramen for a week or not.... I mean, who lied and told me that your 30's is when you have it all figured out and you get to start living your life? Is anyone really 30 and flirty and thriving?
My image of of 30 was married, job, 2.5 kids and a dog (or 2). It wasn't one big decision after another that swallows you whole and/or watching everyone else live out your dream.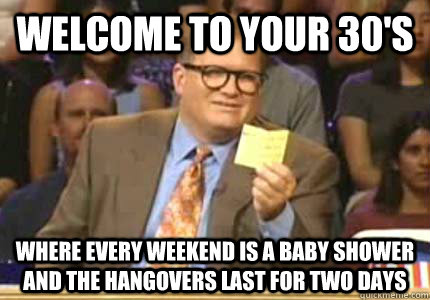 Perhaps my 40's will be the new 30's?