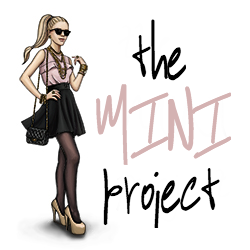 Can I tell you how excited I am about this today?!? I have been awaiting this day since Kelly first introduced her Mini Project. What? The Mini Project you say? sooo what is the MINI project you ask?! well if you haven't guessed it yet its allllllll about the mini parts of fashion - the ACCESSORIES...which can also play a huge role in our everyday outfits. Just like clothes, accessories are also worn differently by each person depending on their style, shape, look etc.
So the MINI project focuses only on accessories....but I don't mean just jewelry - tights, hats, sunglasses, headbands, bows, scarfs, shoes, belts, gloves are alllll accessories as well.
Like before -
The Deal
1 Accessory
4 Girls
4 Different Styles
1 Major Blog Day
And today is my day! So what did my wondering eyes behold in my package all the way from the West Coast? A headband! What? Me? Headband?
The challenge
Hey y'all!
So, I tried it on... But what would the Mini Project be if I just put a headband in the obvious place? So I vowed to come up with something awesome! Except I drew a total blank. Then it hit me.... I had on this outfit when I unwrapped my treat so I thought let's get creative!
just noticed London is backwards and my apt looks like a mess... opps
Workin' It
I love the way shirts look knotted, and its totally in this season, so I just added a little pizzaz in the back with my awesome headband! So....what do you think?
And this is not just any headband ladies, its a one of a kind made by the totally talented
Mila Rose Designs
specially for us May Mini Gals! Oh, wait you totally love the headband? Well, you are in for a treat, since Mila Rose is offering 15% off anything in her shop today, just for those Messy Gals! Head over to her
site
and put in the code
MESSYMINI (all caps).
Ok, so now you need to check out the other Mini Gals I linked up with this Month!
Happy Hump Day Ya'll!!